Entries in Jay Z (12)
Monday, February 4, 2013 at 7:33AM
Bean Soup Times
tagged
Bill T. Jones,
Fela,
Jay Z,
Michelle Williams,
Tony award,
broadway
in
Theater,
celebrity
Playing At The Arie Crown Theater February 19 -23, 2013
Chicago is in for a real treat. Producers Shawn "Jay-Z" Carter, Will & Jada Pinkett Smith and Ruth & Stephen Hendel recently announced that Grammy Award-winning recording artist and former member of Destiny's Child Michelle Williams will join the national tour of the hit Award-winning Broadway musical Fela!
Williams, who just reunited with Destiny's Child for the 2013 Super Bowl Halftime show, will be playing the role of Sandra Isadore, activist and love interest to Fela Kuti.
This musical has really been creating a buzz throughout the country and FELA! returns to Chicago for six performances only February 19 – 23, 2013 at the Arie Crown Theater (2301 South Lake Shore Drive).
"I am thrilled to join the cast of Fela!. This musical journey is one that I've wanted to be a part of since first seeing it on stage in 2008. The sounds, the passion and the politics of Fela Kuti have long intrigued me and speak to my heart. I am simply honored," said Michelle Williams.
Fela! received three 2010 Tony Awards, including Best Choreography. A triumphant and inspirational tale of courage, passion and love, Fela! is the true story of Kuti, who created Afrobeat a type of music that is a blend of jazz, funk and African rhythm and harmonies. Fela used that music and folded in rousing lyrics that openly attacked the corrupt and oppressive military dictatorships that ruled Nigeria and much of Africa.
That's revolutionary. That's something today's hip hop artist and R & B crooners of the U.S. could consider.
Featuring many of Fela Kuti's most captivating songs and Bill T. Jones's visionary staging Fela! reveals Kuti's controversial life as an artist and political activist, while at the same time celebrating his pioneering music and commitment to the cause of universal human dignity.
"More than a musical, an ecstatic phenomenon" (David Cote, Time Out New York), Fela! "Is a spectacularly inspiring hybrid: theater, music, dance, biography, history lesson, political rally, and religious experience. Sublime" (Joyce Kulhawik).
Fela! is directed and choreographed by Tony Award-winner Bill T. Jones, with a book by Jim Lewis and Bill T. Jones, it was conceived by Bill T. Jones, Jim Lewis and Stephen Hendel.
A multi-award winning international singer, songwriter, record producer, and actress, Michelle Williams is best known as a member of the record-breaking R&B and Pop sensation, Destiny's Child, one of the world's best-selling female groups of all time. Born and raised in the small Chicago suburb of Rockford, Ill., Michelle always dreamed of a life on stage.
About Michelle Williams
Fiercely guided by her faith and raised with a strong family core, Michelle was certain that one day she'd be a superstar. During her teenage years, she directed church and community choirs; a platform that not only served to develop her distinct voice but also her independence and dexterity as an artist. Throughout her career in Destiny's Child, Michelle explored solo terrain by releasing two gospel recordings: the award-winning "Heart To Yours" (2002), which featured a collaboration with the legendary Shirley Caesar, and "Do You Know" (2004).
At the end of 2008, Michelle joined forces with producer Rico Love and created a fresh and innovative sound on her dance/pop album, "Unexpected." The first single released from the album, "We Break the Dawn," quickly became a huge club hit, topping the Billboard Hot Dance/Club Play and Hot Dance Airplay charts.
For fans of her subtle and smooth work in Destiny's Child, as well as her soul-stirring spiritual solo work, this was a brand-new Michelle Williams. In between recordings and concert tours, Michelle has conquered yet another challenging mountain as an actress. First, she took the reins of Broadway's Aida in 2003 to critical acclaim and audience raves.
Then, in 2006, she took to the television screen for a hotly touted, ground-breaking multi-episode run in the popular UPN sitcom "Half & Half," where she played the role of Naomi, a record company executive who is HIV-positive. Later that year, she was featured on FOX's successful "Celebrity Duets" series.
In 2007, Michelle took on her greatest acting challenge when she joined the cast of the Broadway smash, The Color Purple for its national tour. She dazzled in the role of Shug Avery. In 2009, Michelle joined the London West End production of Chicago where she made history as being the first African American woman to play the lead role of Roxie Hart. She reprised her role in February 2010 on Broadway for a limited engagement. In 2011, Michelle starred in the acclaimed touring stage play What My Husband Doesn't Know which is now showing on BET.
Back on the music front, Michelle's latest international single, "On The Run" released in the UK in 2011 and peaked at #4 on Commercial Pop Top 30 Club charts. She collaborated with dance-pop diva, Ultra Naté (Ultra Naté & Michelle Williams) on dance song "Waiting On You" in 2012, Billboard Dance/Club Play charts at #12 (from #17). Michelle is currently in the recording studio working on new material for her pop inspirational album due in 2013.
Michelle is a passionate spokesperson for TERI (Training Education & Research Institute) a non-profit dedicated to improving the quality of life for children and adults with developmental and learning disabilities. She also works with the American Heart Association as an ambassador for the American Stroke Association. Michelle recently became a spokesperson for NVEEE (National Voices for Equality, Education and Enlightenment), an organization focused on preventing bullying, violence and suicide among young people.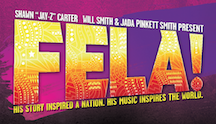 The Chicago performance schedule for FELA! is as follows:
Tuesday, February 19 at 7:30 p.m.
Wednesday, February 20 at 7:30 p.m.
Thursday, February 21 at 7:30 p.m.
Friday, February 22 at 8:00 p.m.
Saturday, February 23 at 2:00 p.m. and 8:00 p.m.
Friday, March 9, 2012 at 2:46PM
Bean Soup Times
tagged
Jay Z,
black music,
hip hop
in
Politics
First of all, the Black politician is on the floor quoting Jay Z which, in the context of what he was saying I didn't get, but of course we dont have his entire comment, however he gets it WRONG even though it looks like he's checking his phone to be correct and white politician corrects him on the lyrics to Jay Z's song "99 Problems". Only in America. LOL
The misquote and correction was from verse two of Jay Z's "99 Problems"
"Well, do you mind if I look round the car a little bit?"
Well my glove compartment is locked so are the trunk in the back
And I know my rights so you gon' need a warrant for that (Jay Z)
"Aren't you sharp as a tack, you some type of lawyer or something'?" (Officer)
"Or somebody important or somethin'?"
Nah, I ain't pass the bar but i know a little bit
Enough that you won't illegally search my shit
"We'll see how smart you are when the K9 come"